premium Snap On Smile Veneers
Regular price
$30.95
/
Fast & Free Worldwide Shipping
In stock, ready to ship

Inventory on the way
SNAP ON SMILE VENEERS
the perfect smile you've always dreamed of, but without costing you a fortune!
"I haven't been this confident in years, purchasing the clear aligners was the best decision I ever could've made." Brad G.
⭐️⭐️⭐️⭐️⭐️
Bousty Snap on Smile Veneers
Top Rated Teeth Veneers
Ours is the latest sixth generation adjustable removable dentures, which is completely different from previous cheap dentures. We have developed and designed corresponding prostheses according to different age groups and different genders, which can fit perfectly without discomfort.
A Great Alternative To Expensive Braces
Are you unhappy with your smile due to discoloration, gaps, oddly shaped, or even missing teeth? Not in a position to invest money and time in veneers or other treatments?
Snap-on Smile may be for you!
Snap-On Smile was developed with simplicity and affordability in mind. It can address a number of cosmetic problems, as well as other concerns patients may have.
It can easily solve dental health problems such as missing teeth, cavities, bad teeth and few teeth.

After wearing our dentures, you can eat normally!
No, Offer Not Available In Stores.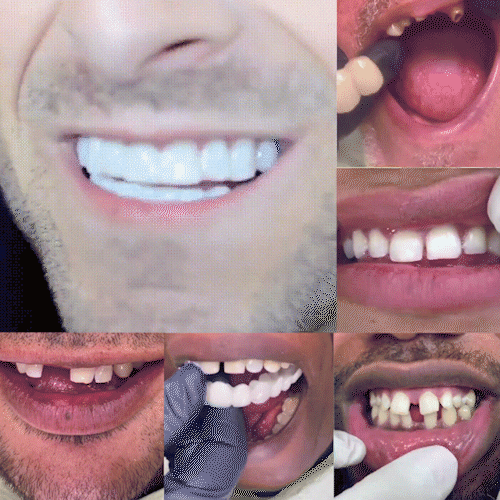 This is a special custom mold that is  comfortable, flexible and easily fits over your teeth.  The perfect adult makeover you need,  easy to put on in minutes  before transforming your teeth into the perfect smile, making it  perfect for everyday use!  
Get your confidence back now with this! 
Cover your damaged teeth to have a perfect smile. Our clients can eat, drink and function normally all day, every day! 
EASY SNAP  -  Fully tooth borne so  adhesive is not a requirement. Just knock out your teeth and get an instant perfect smile! 

NATURAL LOOK  -  Designed to look like a set of natural teeth, including the color  , so you won't feel embarrassed to wear it at all.
MICRO-THIN POLYPROPYLENE  - Allows  for super comfortable all-day wear.  Also makes it  easily adjustable for a custom fit no matter what kind of teeth you have.

WIDE APPLICATION  - Gives you a perfect set of teeth that  covers your uneven, missing, crooked, chipped or stained teeth.

REUSABLE  - No need to buy another set! Just wash thoroughly and reuse.
SAFE TO USE  - Has no harmful effects on your teeth, gums or mouth , making it ideal for everyday use.
COST-EFFECTIVE  - It is a  great alternative to expensive appliances.  Does not require a trip to your nearest dentist or orthodontist! 
SNAP ON SMILE VENEERS
Advantages of using our Snap On Smile Veneers
While Snap-On Smile is not a fixed solution like veneers or implants, it offers the simplicity and flexibility that many love. Its benefits include:
✔️ Avoid paying a fortune for braces and expensive alternatives
✔️ Thin, strong and looks just like real teeth
✔️ An affordable solution to crooked teeth, missing teeth, odd-shaped and discolored teeth
✔️ Completely functional - eat and drink whatever you like
✔️ Little to no speech impairment
✔️ Removable and reversible for utmost convenience
✔️ No palatal coverage means you won't feel like there's something foreign in your mouth
Excellent treatment for conditions including
✔️ Crooked teeth
✔️ Odd-shaped or discolored teeth
✔️ Gaps between teeth
✔️ Missing teeth
Ideal for people who
✔️ Seek an alternative to veneer or partial dentures (which can be more invasive and/or expensive)
✔️ Have medical conditions that prevent other treatments
✔️ Are apprehensive about dental procedures (because of discomfort, anxiousness, etc.)
Our Amazing Customers Talk About It
⭐️⭐️⭐️⭐️⭐️

"I haven't been this confident in years, purchasing the clear aligners was the best decision I ever could've made." Brad G.
⭐️⭐️⭐️⭐️⭐️ 

"OMG! I love my Snap-on Smile veneers. Way cheaper than a trip to the ortho!" Angela S.
⭐️⭐️⭐️⭐️⭐️

"I thoroughly enjoy mine didn't know how great it was to smile again." Matthew R.
⭐️⭐️⭐️⭐️⭐️
 "My teeth were worn down and slightly uneven. When I opted for the Snap-on Smile Veneers. I didn't know what to expect. I was very pleased with the simple process. It was not at all painful. Now my smile is free and natural and I feel so much more confident with my beautiful teeth! Totally worth it!" - Aisha C.
What's Included in your Package?
1 x Set of Plastic Mold
1 x Set of acrylic resin Veneers
1 x Portable Case
SNAP ON SMILE VENEERS
Instructions
1. Place the acrylic resin into a cup of hot, almost boiling water. This procedure will make the teeth flexible and ready for custom fitting.
2. Place the resin into the plastic mold.
3. Using a mirror, firmly position the veneers over your existing teeth. Press them firmly against your teeth and gently pat the impression material with the thumbs behind your real teeth.
4. To ensure a nice tight fit, try sucking and pressing the mold against your teeth.
5. Gently ease the veneer out of your mouth after 2-5 minutes or if it's hardened up.
6. Separate the veneers from the mold and set the veneer in a glass of cold water to cool it down. The veneer will turn white when it has hardened.
*Optional: You can use a file to customize or make finishing touches to your personal veneers*
Quick Steps To A Perfect Smile
Place the acrylic material inside hot water for 2 to 4 minutes (so they become malleable).





Place the softened material into the veneers mold then place the veneers inside your mouth - using your fingers to form the veneer around your teeth.





Wait until the material is hard enough to keep its shape then place it in a cup of cold water to harden the mold.





This will enable you to 'snap' your smile into place at any given moment!

Frequently Asked Questions About Bousty 
Snap On Smile Veneers
I have missing teeth, does it still fit?
✔️ 
Yes, That's what it's for, to cover missing or crooked teeth.
What Shade does it come with?
✔️
 It comes with a natural off-white Shade.
Do I have to make an impression and send it back?
✔️
No, it comes with an impression kit and instructions to customize it to fit your size at home without having to send it back.
Can I eat with it?
SNAP ON SMILE VENEERS
Can I Buy it in-Store?
✔️
 No, The Offer Is Not Available In Stores.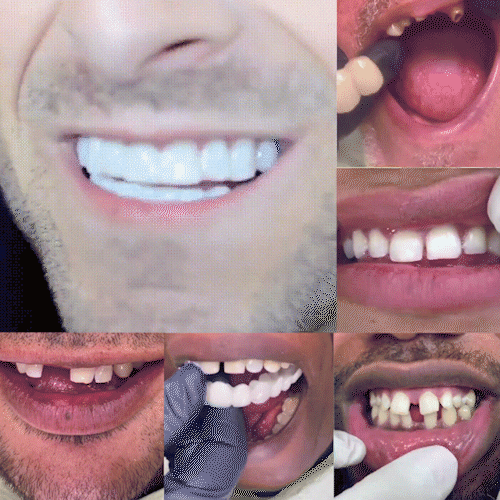 Keep Your Smile Attractive And Perfect
⭐⭐⭐⭐⭐
We offer a 30 day risk free policy. If for any reason you are not satisfied 30 days after receiving your product, we will repair it for you. All you have to do is contact our knowledgeable customer service team.