Acupuncture Therapy (1 pair)
Regular price
$99.99
Sale price
$39.99
/
Fast & Free Worldwide Shipping
In stock, ready to ship

Inventory on the way
Our brand new RedvoSandals™️ are ideal for any and all sufferers of moderate to severe levels of stress, anxiety, muscle tension, insomnia etc. You can't put a price on health. RedvoSandals™️ have been proven to improve your quality of life.

FEEL THE RELIEF WITHIN MINUTES!
The RedvoSandals™️ have 82 acupressure points that have been scientifically arranged by professionals to target all areas of your body to promote better blood circulation, relieve stress, avoid leg cramps, better sleep, and overall body tension relief.
In less than 20 minutes each day, watch your muscle tension go away, energy levels increased and sleep cycles improved!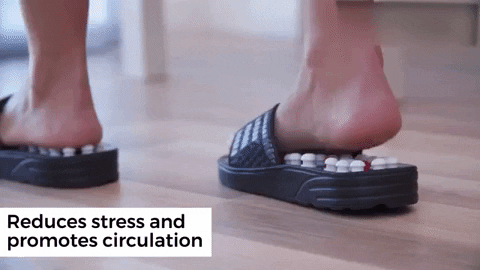 HOW DOES IT WORK?
Our RedvoSandals™️ features nodules that apply pressure to the soles of your feet, which in turn, improves blood circulation, prevents leg cramps and headaches, and encourages full-body wellness!
In fact, the continuous use of these slippers will eliminate stress altogether and reduce neck and shoulder tension. Even more incredible, these amazing slippers were created using anti-microbial materials to eradicate foot odor.
WHAT DOES IT HELP WITH?
✅ Lowers Blood Pressure - High blood pressure, also called HBP or hypertension, can be controlled with a regular foot massage. Foot reflexology may help reduce systolic blood pressure and triglyceride.
✅ Promotes Better Sleep - One of the benefits of foot reflexology is regular good sleep, improve blood circulation, and relax nerves that encourage restful sleep.
✅ Fights Depression - According to a popular Journal called Reflexology Therapy, foot massage through reflexology slippers, provides consolation, helping people to balance the need for stress and demands of daily life.
✅ Relieves Aches and Pains - Foot reflexology also helps alleviate backaches, neck pain, reduce pain and swelling in the ankle and get relief from headaches and migraines,  relieve thigh pain or lower back pain.
✅ Eases PMS and Menopause Symptoms - Many older women suffer from classic symptoms of sadness, irritability, insomnia, bloating, fatigue, headaches, and mood swings during premenstrual syndrome (PMS).
✅ Cure Restless Leg Syndrome - One of the benefits of acupressure footwear is curing restless leg syndrome, a kind of neurological disorder. 
✅ Relief from the exhausting fatigue - Even physical ailments like cancer can be cured, through an acupressure footwear massage.
✅ Improves Blood Circulation - Due to sedentary lifestyles, most of us do not use the muscles of our feet properly. Also, improper footwear like tight shoes hampers normal circulation in the feet.
✅ Helps You Relax - After a long tiring day, the best way to relax is a soothing and relaxing foot massage, particularly after walking around when our feet tend to swell up.
✅ Makes Feet Healthier - Regular foot massage helps stimulate the muscles around your feet, lessens stiffness and even reduces pain in the ankles or the heels.
HOW DO I USE THESE SANDALS?
Designed to soothe foot/ heel pain & tension due to arthritis, neuropathy, plantar fasciitis. Promotes better blood flow to enhance overall health.

Wear these therapy massage slippers for 15 mins each time NOT all day. These acupressure slippers might hurt for the first few times using them; however, simply add a pair of socks and shorten the wearing time while your body adjusts to the pressure sensor.
WHAT SIZE SHOULD I CHOOSE?
FREQUENTLY ASKED QUESTIONS:
 1. How long am I supposed to wear them?
Answer: Our RedvoSandals™ should be worn for 15-20 mins a session. It is important to not wear them more than this recommended amount of time for the best results.

2. My feet hurt when wearing these, is this normal?
Answer: These acupressure slippers might hurt for the first few times using them; however, simply add a pair of socks and shorten the wearing time while your body adjusts to the pressure sensor.

3. Can you walk in these with your bare feet?
Answer: Yes you can indeed walk in these barefooted however if it start becoming uncomfortable you should go back to wearing them with socks.

4. Can I return my RedvoSandals™ if I don't like it?
Answer: Yes! If you don't like your RedvoSandals™️ after 14 days of receiving it then you are more than welcome to return it. If you wish to return your RedvoSandals™️ then please send an email to our support team so we can help you with the return instructions: support@Redvocare.com
100% SATISFACTION GUARANTEE:
Here at RedvoCare™ we believe in the effectiveness of our work and the quality of our products. Therefore we offer all our customers 100% satisfaction guarantee. If for whatever reason you decide that you are not satisfied with the product or the quality after 14 days from receiving it, then contact our customer support and we will help you returning your product and get a complete refund, no questions asked!
We offer a 30 day risk free policy. If for any reason you are not satisfied 30 days after receiving your product, we will repair it for you. All you have to do is contact our knowledgeable customer service team.