HexoSeater™ Lower Back Pain Relief Gel Cushion
Regular price
$124.99
Sale price
$49.99
/
Fast & Free Worldwide Shipping
---
In stock, ready to ship

Inventory on the way
HexoSeater™ is the world's most advanced seat cushion designed for those with long sitting hours , spine & postural disorders or spinal & sciatica pain that are aggravated while sitting. Made to alleviate the pressure on the spinal nerve while lying to allow the nerve space and time to heal.

WHY DO I NEED THIS CUSHION?
Let's face it. You probably spend countless hours sitting in front of the desk and chances are, you suffer from neck, shoulder, spinal or sciatica pain while sitting.
Sitting for long periods of time compresses spinal nerves and discs which causes pain anywhere from neck, shoulder and down along the spine with most commonly at the buttocks and lower back of the spine.
If you're looking for a natural solution to relieve spinal pain and increase everyday comfort while sitting, you're at the right place.
HexoSeater™ is guaranteed to reduce sciatica pain while sitting or your money back, no questions asked.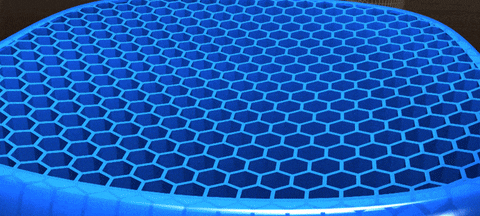 FEEL THE DIFFERENCE IMMEDIATELY
HexoSeater™ is made specifically to take pressure off the spinal nerves to help you sit more comfortably for longer with reduced pain.
By placing our HexoSeater™ on your seat every time you sit you are able to stretch your spinal nerves whilst reducing the increased pressure the nerve experiences while sitting.
By using HexoSeater™ consistently, it accelerates the healing process to eventually help you resolve your spinal or sciatica disorders for good. Look at what others are saying.
"This seat cushion is exactly what I've been looking for. I get sciatica pain from sitting all day, so I ordered a cushion to try. Immediately, the pain down along my spine was gone. GONE. It is truly a lifesaver!" - Julia, Chicago, IL
COUNTLESS BENEFITS
Relieve your spinal & sciatica pain and enjoy all the other miraculous benefits of using HexoSeater™ for just $49.99 today.
✔ CORRECT POSTURE - Provides proper alignment & support to your lower back and spine, promoting healthy posture and preventing spinal misalignment & aches. 
✔ IMPROVE BLOOD FLOW - The cushion conforms to your buttock shape and reduces pressure on critical areas, significantly improving blood flow to the legs and feet.
✔ INCREASE ENERGY - With better sitting posture, blood circulation and less pain, you're bound to feel more energized and less distracted. Increase your productivity and performance at work!
✔ ERGONOMIC DESIGN - Breathable contour HexaGrid system keeps the cushion cool without compromising comfort. No more sweaty butt!
✔ PREMIUM QUALITY - Made with medical grade gel to retain the original shape for many years and to offer maximum comfort. 
USE IT ANYTIME, ANYWHERE 
HexoSeater™ is extremely compact & takes up very little space. Each cushion includes a black protective cover which allows you to install it anywhere you go.
Comes in variety of seaters for you to select and it is perfect to those who sits for long periods of time, with spinal issues or wheelchair bound.
Our HexoSeater™ are large in dimensions yet fitting all chair pads. Perfect for home, office or vehicle use. Light-weighted and perfect on-the-go. Turn any chair into the world's most comfortable seat!
100% SATISFACTION GUARANTEE:
Here at HexoCare™ we believe in the effectiveness of our work and the quality of our products. Therefore we offer all our customers 100% satisfaction guarantee. If for whatever reason you decide that you are not satisfied with the product or the quality after 14 days from receiving it, then contact our customer support and we will help you returning your product and get a complete refund, no questions asked!
We offer a 30 day risk free policy. If for any reason you are not satisfied 30 days after receiving your product, we will repair it for you. All you have to do is contact our knowledgeable customer service team.