Non-bending Sock Helper
Regular price
$59.99
Sale price
$29.99
/
Fast & Free Worldwide Shipping
In stock, ready to ship

Inventory on the way
Putting on your socks can be difficult for those with mobility restrictions or arthritis. Problem solved with the RedvoSock™ Non-bending Sock Helper! You can now put on your socks without having to bend over!

COMFORTABLY PUT ON SOCKS AGAIN!
This sock aid is very easy to use and can be helpful to anyone with arthritis, mobility restrictions, back issues and even pregnant women! There is no need to feel frustrated anymore with dressing yourself. Get back your independence! This product will help make your life Healthy, Happy and Easy!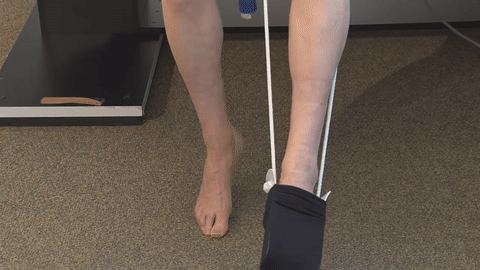 WHAT CAN THIS HELP WITH?
✅ Mobility Limitations
Perfect elderly people or those that have mobility limitations that would prevent them from being able to bend over and tie their shoes.

✅ Injuries
For those that suffer a back or leg injury, make recovery a bit easier with the RedvoSock™. Make putting on your socks easier so you don't risk re-injuring yourself.

✅ Pregnancy
For pregnant women, the simple act of putting on socks can become a real chore, and someone is not always around to help. This simple device helps you gain back your independence.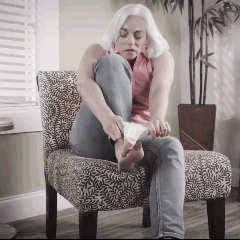 HOW DO I USE IT?

Putting on your socks has never been easier and faster!
Step 1: Pull sock or stocking over the end of the RedvoSock™ Non-bending Sock Helper.
Step 2: Place the RedvoSock™ in front of your foot on the floor.
Step 3: Insert toes into sock or stocking opening.
Step 4: Pull straight back until toes are well into sock or stocking and the RedvoSock™ is out of sock or stocking.
KEY BENEFITS OF OUR NON-BENDING SOCK HELPER
✅ Works With All Types Of Socks
Athletic socks, casual socks, dress socks, compression socks... The choice is yours! 

✅ Perfect For Anybody
Although we designed our product for elderlies, it can also be used by pregnant women, people with injuries or truly anybody who wants to make their life a little bit easier.

✅ Flexible Contoured Plastic Shell
The sock assist device is made of high quality molded plastic that is durable but flexible enough to work with all sizes of socks from small to extra large for both men and women. It works with all types of socks including athletic socks, dress socks, stockings or casual socks.

✅ Soft And Non-Slip Foam Handles
It is built up with a soft and Non-Slip foam handle for a comfortable grip.

✅ Adjustable Ropes
The ropes can be adjusted to your desired length by tying new knots as needed.

✅ Slip-Resistant Foam Pad
A slip-resistant Foam Pad keeps a sock or stocking from slipping off the RedvoSock™.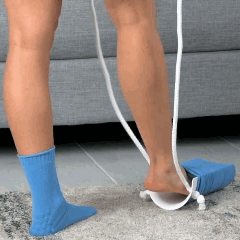 FREQUENTLY ASKED QUESTIONS:
 1. Does it work with compression socks?
Answer: You can use this sock helper with any type of sock including compression socks.

2. I can't seem to get the sock on properly, what am I doing wrong?
Answer: It is important to position the sock on the RedvoSock™ so that the toe is very close to the top of the slider before you insert your foot. If the toe of the sock is near the bottom of the RedvoSock™, it will not go on your foot very well.

3. Does this stretch out and ruin your socks?
Answer: No you don't have to worry about ruining your socks with our sock helper.
4. Can I return my RedvoSock™ if I don't like it?
Answer: Yes! If you don't like your RedvoSock™ after 14 days of receiving it then you are more than welcome to return it. If you wish to return your RedvoSock™ then please send an email to our support team so we can help you with the return instructions: support@Redvocare.com
100% SATISFACTION GUARANTEE:
Here at RedvoCare™ we believe in the effectiveness of our work and the quality of our products. Therefore we offer all our customers 100% satisfaction guarantee. If for whatever reason you decide that you are not satisfied with the product or the quality after 14 days from receiving it, then contact our customer support and we will help you returning your product and get a complete refund, no questions asked!
We offer a 30 day risk free policy. If for any reason you are not satisfied 30 days after receiving your product, we will repair it for you. All you have to do is contact our knowledgeable customer service team.